Care of patients with Alzheimer's disease
Alzheimer's disease and other forms of dementia cause the progressive loss of memory and other higher mental functions, the loss of capabilities, as well as various behavioural issues. With Alzheimer's disease, the entire family suffers together with the patient.
The care at home of individuals suffering from dementia and/or Alzheimer's disease by relatives (spouses, offspring, siblings) can be very difficult due to the increasing demands such care requires. Additionally, the life of the carers is usually impacted due to their inability to participate in social and professional activities. Their free time becomes limited, their social life is adversely affected and even their economic security can be imperilled.
The health professionals of the Oasis staff can help patients, as well as their families, both in daily practical matters, and by offering the psychological support necessary to accept life with the disease. Additionally, the progression of the disease is monitored by our physician, and regular medical assessment is offered. We also use non-pharmaceutical treatments to promote the cognitive abilities of individuals with dementia such as:
Promoting cognitive abilities and memory
The cognitive exercises that are implemented by our specialized staff are designed to promote memory, attention, language skills, motor skills and logical thought.
Creative Work
Daily creative work that helps maintain the capabilities of patients with dementia is one of the priorities of our facility. For that reason, there are both group, as well as personal programs, so that no one is excluded, including those who are bedridden. The aim of the programs is to strengthen the mental abilities of the elderly, to promote learning, and to improve their memories, ability to focus, executive functions and language skills.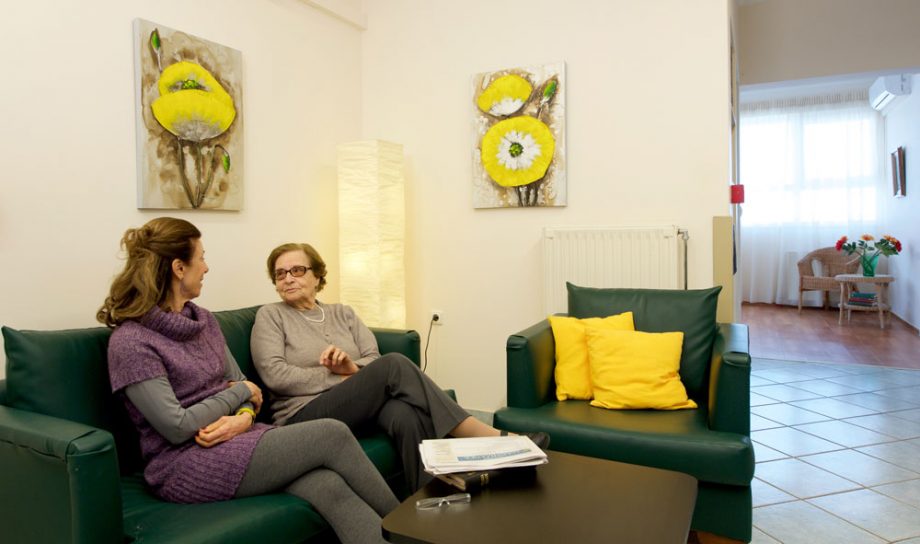 This is achieved through the daily participation of residents in a variety of exercises that orient them in time and space and promote memory, recall, attention, judgment, vocabulary and executive functions. These include crossword puzzles, music therapy, film screenings and other specialized activities coordinated by the psychologist.
Speech Therapy
Speech therapy is offered depending on the condition of the patient and depending on the difficulties each patient faces. The specialized staff seek to:
Restore abilities in understanding speech and speaking (where possible)
Maintain daily communication with the individual, through the use of non-verbal communication methods, such as facial expressions, hand gestures, etc. Here we also help inform and educate the patient's family.
Free time activities
Free time activities at Oasis nursing home include activities such as reading, watching television, playing board games, playing games with paper and pencil and social activities. Contact with friends and family is very important.
Our goal is for the patient to actively participate in dealing with their disease, to remain active, and not merely wait passively for their medications to take effect.
Of course, in all of the above, what contributes most to the health of the patients, as well as their quality of life at our center, is daily human contact with all of the people of the center, as well as with their families.